Tools for Thinking, Together
Our intention behind Are.na is to build a platform for creative thinking and research that is open to everyone.
It's a distraction-free space where you can collect anything, organize your thoughts, and develop ideas over time. It's also a community where curiosity and collaboration are more important than algorithms and likes.
Whether you're writing a story, designing a product, or just exploring your interests, we believe Are.na should help you think and discover in a way that feels natural. Learn more about our thinking.
Your Ideas, Your Data
Are.na is powered by members, not advertisers. We will never display ads and we will never hand over your data without your explicit permission.
Premium members help us improve Are.na and make the platform accessible to everyone. Consider signing up for a yearly membership in order to access extra tools and privacy options.
Are.na for iOS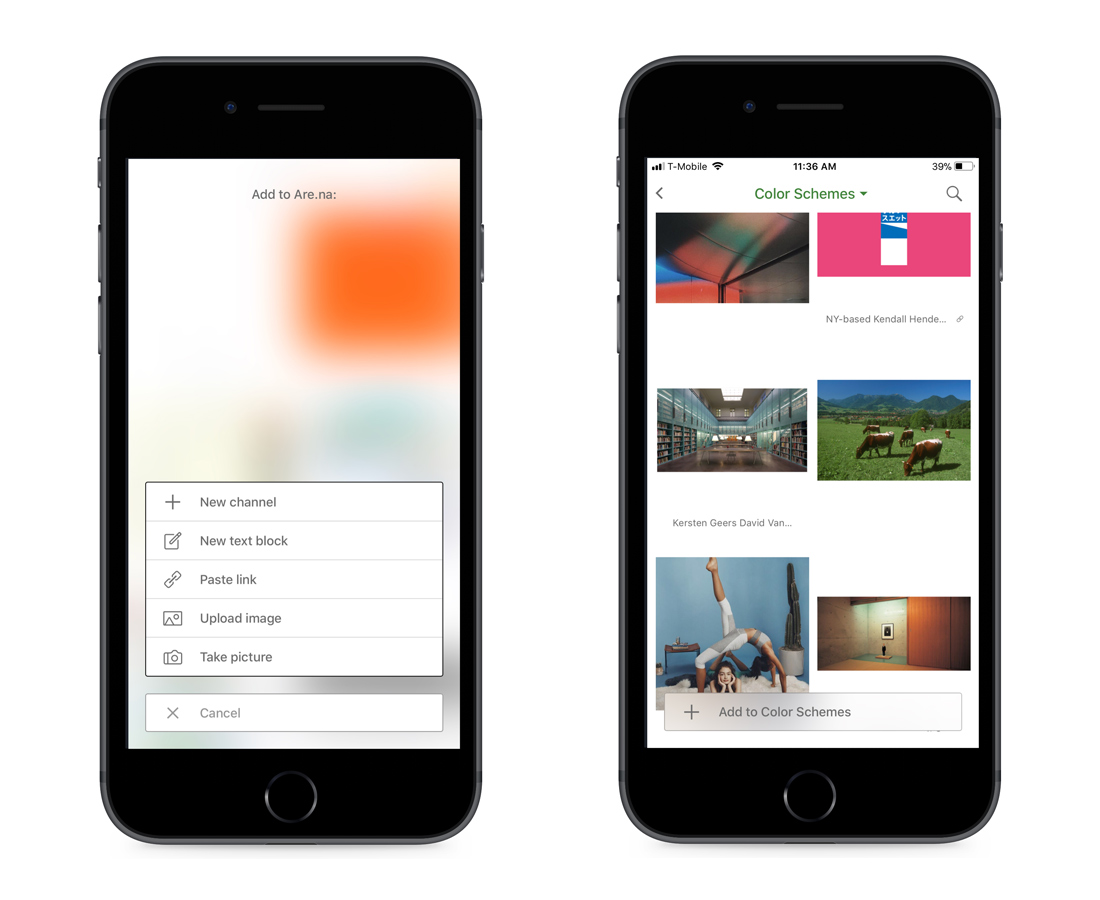 The Are.na mobile app lets you add content, browse channels, and make connections right from your phone. Take your ideas with you and browse a universe of shared knowledge, no matter where you are.
Are.na Labs
We work with creative teams, institutions, and brands to develop custom digital projects powered by the Are.na API.
Plans and Pricing
Everyone can join Are.na for free and add unlimited public content. Becoming a Premium member allows you to work in complete privacy on personal or professional projects, and gives you early access to new products and features.
For student plans visit this page, for teams and organizations please contact help@are.na
Join Basic
Content
Add links to web pages, images, videos, PDFs, and even selected text using the bookmarklet
Upload any file type
Create text notes
Edit titles, add descriptions, and make comments
Manage
Organize content Blocks within Open, Closed, or Private Channels
Add up to 100 Blocks in Private Channels
Add unlimited Blocks in public Channels
Connect related Channels
Search
Search users, public Blocks and Channels
Collaborate
Find friends who are already on Are.na
Export Channels as PDF, ZIP, and HTML
Create public links to Channels
Live Feed of users and channels you follow
Invite friends and colleagues to collaborate on specific Channels
Customize
Profile page with customizable bio and links
Support
Customer support via e-mail
Join Premium
Privacy
Unlimited Private Blocks
Hide from search engines
Access
Early access to new products and features (mobile app coming this month)
Blog
See what the Are.na community is thinking about and how members are using Are.na in their own creative projects.
FAQs
What should I use Are.na for? Why should I use it instead of other bookmarking and organization tools?
People who use Are.na as a daily tool appreciate the dynamism between private and public collaboration. Content is easily connected between different topics and channels, resulting in discovery of information and organic archives.
Play around for a while: adding content, connecting and discovering users is the best way to find out the platform's qualities.
I'm lost, not sure how to use Are.na, can you help?
You can explore to see how other people use it, ask questions in the feedback channel, look at the getting started page or contact us.